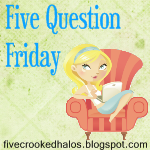 So my friend
Tima
tried this today, and now I am going to copy her. ;)
1. Did you make any fun purchases this week?
Not yet! But tomorrow I am hitting up Carters to buy jeans for Keira, and Halloween pajamas! (Remember we are Halloween people.)
2. If you could go to any musical concert, what would it be?
Pearl Jam's 20th Anniversary concert with
the Strokes, Queens of the Stone Age, and Mudhoney. Two days of Pearl Jam at Alpine Valley - yes please! Plus it would be awesome because that is where I first saw them live. However, lack of funds and no babysitters mean no concert in real life.
3. What is your least fav/ most fav house chore?
Least fave would be dishes, so Keith does them. Most favorite chore would be dusting/vacuuming/reorganizing.
4. Would you prefer new appliances or clothes?
I'd have to go with clothes.
5. Miracle Whip or Mayo?
I love Miracle Whip, but the hubby doesn't. Since he does the grocery shopping, it's all mayo at our house.