Please note the white "lockers".
Courtesy of my super-husband, Keith, who builds me whatever I want.
The orange and yellow paintings are monarch butterflies.
You can tell a family lives here.
No fancy artwork,
Just pieces that were carefully
crafted and designed by my 3 artists.
And I wouldn't ever want to change a thing.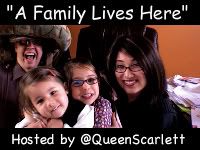 Also participating in the Welcome to the Weekend blog hop!