I needed one of these...
Happiness is: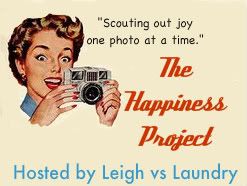 Ahhh... it's the little things.
In other news, the kids had a great Valentine's day yesterday. They went to school and had their parties. They came home with lots of valentines and candy. They got to have their favorite dinner -yellow pizza - (cheese bread from a local pizza place). Cupid brought them presents. Then we watched a little Max and Ruby and went to bed. Two hours later, the children who refuse to stay in their beds and go to sleep, were finally asleep. Just in time for Mommy and Daddy to watch Castle and enjoy a milkshake.