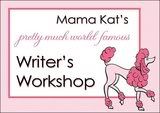 Today over at Mama Kat's, one of the prompts is to write about "That one time you met your online friend in real life (was it everything you thought it would be?)"

After Connor was born, I joined his birth board at Babycenter. There, I was able to talk with a lot wonderful women who were going through the same thing that I was. They gave great advice and really helped me out with my first-time mom questions. As the group grew, we broke off into separate groups, although the main onesstill existed. Some of those women are my best mommy friends even today.

One of the groups I was a part of actually branched out to another website. We were able to really get to know each other and bond over many things. One of my friends, Cathy, was traveling down to where I live for work. We decided to meet. I remember being nervous, wondering if she would like me. It was like getting ready for a blind date. ;) I picked her up at her hotel and we went to eat at Red Robin. The thing is, it was like we had always been friends. We had great conversations. The fact that we had been never chatted in person before didn't seem to matter. I had a great time meeting her and hope that we will be able to meet up again sometime. Perhaps a great Castle meet-up?
I have also met another on-line friend IRL, but this one is a little funny. All through my pregnancy with Connor, my mom talked about how she worked with a woman, Judy, whose daugther-in-law, Molly, was pregnant at the same time I was. In fact, I remember specifically after Connor's birth, my mom kept saying - you know, Molly already got her thank you cards out, and you still haven't sent yours yet.
I kind of got tired of hearing about this Molly. ;)
Anyway, on my July birthboard, a group of us mommies branched out by birthdates. So there were a few of us, who all had babies born around the first part of July that chatted quite frequently. I ended up emailing one of the girls something, and when she responded, I saw her last name for the first time. Then it clicked! For months, I had been chatting online with a Molly. I guess we never mentioned what states we lived in, or it may have been clearer quite sooner. Or perhaps I will just blame mommy brain!
Anyway, this Molly was the same Molly that my mom knew! Not only that, she lives like 10 minutes away from me! Now we meet up for dinner every so often. In fact, we are due for another dinner quite soon!
My online mommy friends are some of the best friends I've ever had. Babycenter does a wonderful thing, bringing together mommies from around the world to chat about their lives. I've got friends all over the U.S., in Canana, and even Tanzania! We still keep in touch on facebook these days, which is a little easier now that our July babies are no longer babies, but pre-schoolers! I really hope that I am able to meet more of my online friends as the children grow.